Volunteers Converge on Phillips Exeter Academy for Green Apple Day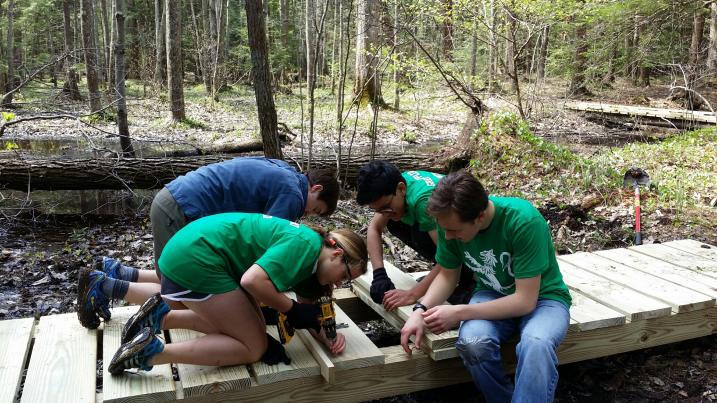 A small frog springs forward in front of my foot as we wrestle with a large, bright-orange "weed wrench," a metal tool that helps pull invasive shrubs out of the ground. I stopped to pick up the frog and showed it to the high school students working alongside me. The tiny spring peeper was a great example of an animal that uses the habitat we were working to restore. We--a group of 8-10 Phillips Exeter Academy students, staff and community members--were pulling invasive plants as part of the Academy's Green Apple Day of Service. 
This was just one of several projects volunteers could choose to work on as part of the event, held last Saturday, May 9th. Fifty volunteers gathered on the Phillips Exeter campus to work on nature-based volunteer projects ranging from trail work, to invasive plants removal, to planting a pollinator garden, to building and painting butterfly boxes, to cleaning up the campus community garden. 
Our group, the "Invaders Team," was tasked with working along a wet swale that drains through several athletic fields and into the Exeter River. The area is part of a larger restoration plan to offset the impacts of an artificial turf field that is set for installation this summer. The plan will expand the unmowed area along the swale, to improve water quality and increase the amount of wet, shrubby habitat available to wildlife. In addition to removing invasive plants, native shrubs will be planted.
Students and volunteers learned to identify and remove a variety of invasives including multiflora rose, oriental bittersweet, Japanese barberry, honeysuckle, autumn olive, privet, and burning bush. Luckily, there were also plenty of native plants growing along and in the wetland including silky dogwood, meadowsweet, speckled alder, wild iris, and cattails. Hopefully, by removing the invasive plants, these native plants will spread and take over the area, increasing the quality and quantity of shrubby, wet habitat available to wildlife (like that tiny spring peeper).
Teams of volunteers spread out across campus to tackle a wide range of projects. One team built a 32-foot bridge across a small stream on one of the Academy's many trails. Volunteers cleared brush from trails and added mulch. Another team of students planted a pollinator garden, while others cleaned up the campus community garden. Younger volunteers participated by building and painting butterfly boxes to be hung in the community and pollinator gardens. 
Over the course of three hours, we watched the pile of invasive plants grow as we worked our way along the swale. Just when we thought we were losing steam, Jill Robinson, Senior Manager of Sustainability and Natural Resources at Phillips Exeter Academy, and coordinator of the volunteer event, showed up with water and snacks for the volunteers. "It's tough work, but it's so satisfying," remarked Jill. "When you look at the pile of plants pulled it's so clear just how much work we've accomplished. And this is just one of 8 projects today!"
To learn about other similar volunteer events going on throughout the spring and summer check out Nature Groupie's training page.
About Green Apple Day:
The U.S. Green Building Council's Center for Green Schools created Green Apple Day of Service as a way to give individuals, companies and organizations the opportunity to transform all our schools into healthy, safe, cost-efficient and productive learning places through local service projects. In schools across the country, students and school employees, as well as parents, alumni and nonprofit organizations work together on service projects over the course of a day
Spread the word!