Strictly Professional at Southeast Land Trust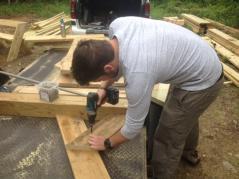 Over the summer I had the pleasure of meeting and working with Phil Auger at the Southeast Land Trust (SELT) of New Hampshire. As property manager for SELT, Phil oversees the management and usage of each property, making sure that the protection of the land allows for outdoor recreation, clean water, wildlife, and a healthy forest.  Over the course of the summer I worked with Phil on different projects and properties, including opening up trails for public usage, invasive species pulling, posting boundary markers, and setting up wildlife cameras.
One of the earliest projects, and one that spanned the whole summer, was planning a trail in Kingston and Danbury, NH.  We went through the entire process of creating the trail, from layout to the finished product. We started with a GPS and walked through thick shrubs and trees, creating a route that would eventually become the trail. Soon after, with a variety of tools and our hands we chipped away at the marked route, opening up space. Day after day we pushed back through thickets of blueberry bushes and dried hemlock branches finally circling back to the beginning. To finish, we put up trail signs and walked the trails one last time with the GPS to create a smooth route. Later, the track collected by the GPS is transcribed to an actual sign, printed and posted onto the trail.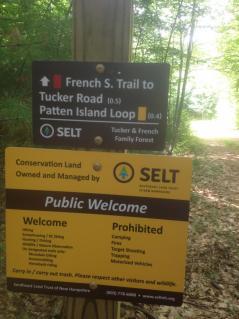 The official trail opening will happen in the fall, but it is currently open for anyone who wants to take a nice hike. Link to a trail map here. 
Other projects we worked on over the summer included invasive species monitoring and pulling, building benches and kiosks for a different trail opening, setting wildlife cameras, and posting boundary markers on different properties. Each day I employed different tools that I used to cut, nail, chop and dig my way through hour after hour.
As an experienced forester, Phil taught me a lot about forest communities and conservation practices. However, what stood out the most was his ability to tell the history of each place we worked. And not just about the formation of the wetlands, forests and hills, but also the more recent history of early settlers and their impact on the land. If you step on many of these properties you enter a closed canopy forest of relatively young trees, and it is hard to imagine that where you stand used to be fields of grass. Nor would you imagine that out in the middle of this area people chipped away at granite rocks to build the foundations for their homes and barns. Yet Phil pointed out many clues such as remnants of barbed wire, granite boulders with drill holes, and foundations of homes and saw mills.
I learned that each property tells a different story, a story of New Hampshire and its history. I urge everyone to go and explore these parks and trails that are only a town or two away, to step into history and enjoy the sights.
I had a phenomenal time working with Phil, and the Southeast Land Trust. This summer has been an amazing and unforgettable experience. Thank you so much to all of the partners, the Stewardship Network: New England (now called Nature Groupie), and UNH Cooperative Extension for giving me the chance to work alongside some of the most experienced, fun, and knowledgeable individuals over the course of this summer!
Spread the word!