Iconic Maine Trail Receives Volunteer Love
The heat and humidity on the 9th Annual Pod Day on Saturday, August 14, 2021 was oppressive. Despite that, thirty-nine intrepid volunteers showed up at Marginal Way, an iconic public trail along the coast in Ogunquit, Maine to search for and remove the seed pods of black swallow-wort.
Veterans of past Pod Days greeted and reconnected with each other, some for the first time since COVID began. We welcomed twelve new recruits, showing them how to spot black swallow-wort hiding within the honeysuckles, roses, and Asian bittersweet along the trail.
Black swallow-wort (Cynanchum louiseae) is a non-native invasive plant in the milkweed family. It is notoriously difficult to remove (learn more here), but removing the seed pods before they open can reduce its spread.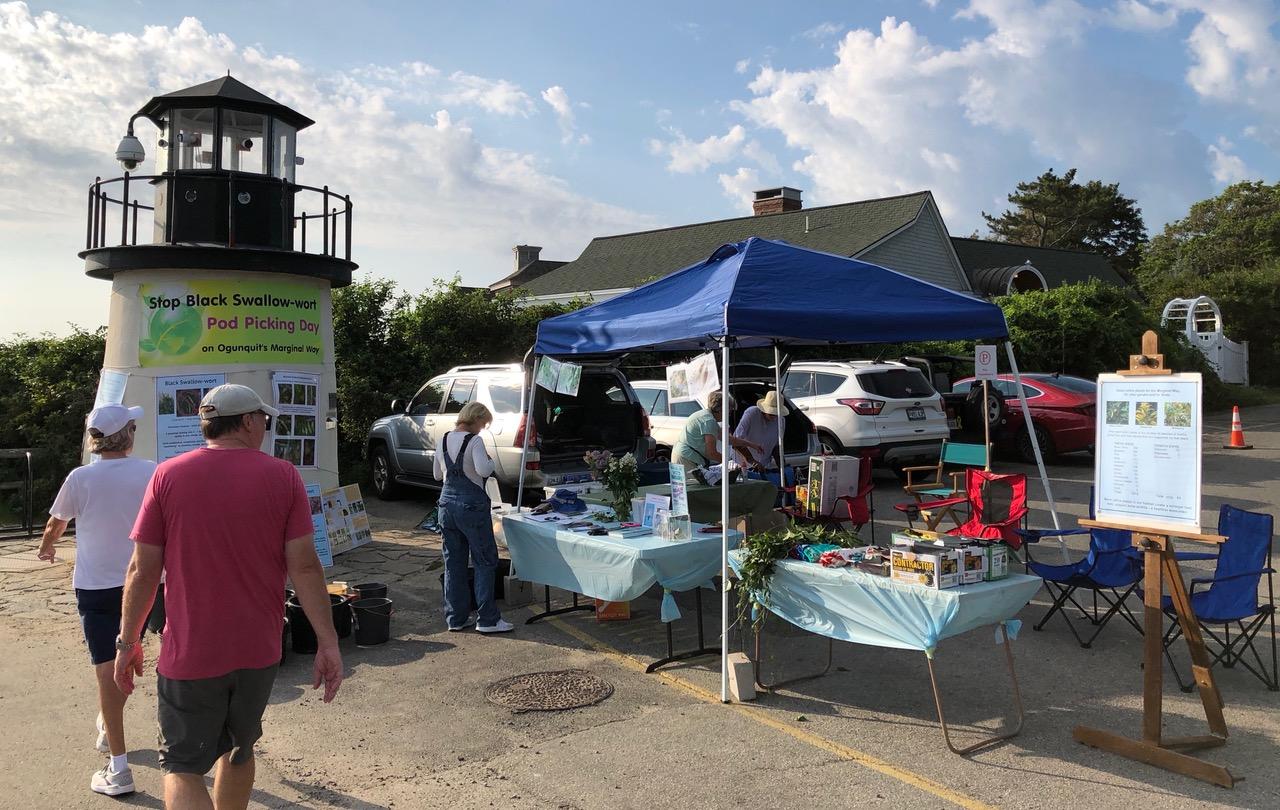 Experienced volunteers observed that it was much more difficult to find swallow-wort this year. My theory is that the days of grabbing an armful of vines are over. In the early years of Pod Day, which we started in 2012, you could stand in one spot and find a mother lode of pods to fill a bag. But over the last 8 years (not including this year), our volunteers have picked 6,520 pounds of black swallow-wort. If you multiply each pound by our estimate of 1,500 seeds per pound, that makes almost 10 million seeds that have not had a chance to germinate on Marginal Way. That's a lot of prevention!
I believe this once-a-year effort has had an impact on black swallow-wort. This plant has been growing on the Marginal Way for at least 20 years, establishing a widespread population. It was in my garden long before I even knew what it was called. Given it's tenacity and spread in our area, I know we won't ever eradicate swallow-wort from Marginal Way. The best we can do is to reduce the population and contain the infestation as much as possible. Ergo, Pod Day!
Every year, I like to summarize and share the results of our volunteer efforts. We had set a goal of picking 500 lbs. for 2021.  Exactly at noon the truck came to the lighthouse (our workday headquarters) to take the bags to the transfer station to be weighed. This year, that first pile totaled 440 pounds, which will be incinerated with our community's household trash. 
But wait! Later that afternoon I saw a black shape up the hill near a Marginal Way staircase. It was two more bags that never made it to the lighthouse for pickup up – another 35 pounds. Then, on the following Monday, a small team went back and collected two more bags for a final 27 pounds. So the final total for 2021 is 502 pounds. Hooray!  We met our goal, and saved 753,000 seeds of black swallow-wort that will not spread in coastal Ogunquit.
A friend shared this thought about our Pod Days: "The Pod Picking Days are a great success not only because they help to clear out the seeds of this invasive plant, but also because they bring people of the town and visitors together to work on a project that will help…what I regard as the most precious asset that [our] town has: people coming together to protect this generous natural gift that we all too often take for granted."
I like that idea – that through volunteer action we are building community awareness about what is needed to preserve a unique landscape – that we are building a community of stewards that care for the Marginal Way into the future. 
We are already planning for our 10th Anniversary of Pod Day on August 13, 2022. Anyone can join my signing up through naturegroupie.org next summer! 
Read more from Joan, including her 2015 tips for working with volunteers: Pod Picking Day.
Spread the word!