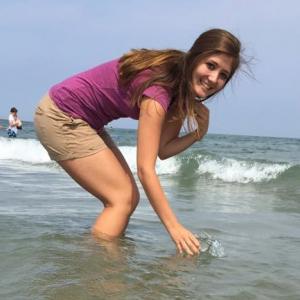 Trina Lafata
Citizen Science Intern, NH EPSCoR, 2015
I'm Trina Lafata, the summer 2015 NH EPSCoR Intern for Healthy Beaches and Citizen Science, working with UNH Extension. Over the summer I will help organize, recruit and manage volunteers to help with "Beach Blitz" water sampling at local beaches. Throughout the summer I will also be working on several different projects such as the Glass Eel Monitoring and Surfer Surveying.
I have the opportunity to work with:
University of New Hampshire
New England Sustainability Consortium
The Stewardship Network: New England
NH Sea Grant
UNH Cooperative Extension
I am from Gloucester, Massachusetts and I have always been surrounded by water. The beach has always had a huge impact on me, whether it was working at the beach for 4 summers interacting with the beach goers, or going on early morning runs, cleaning up the beaches for school projects, or just sitting by the ocean enjoying the sun. The beach has had a huge influence on my life as well as other people and I am excited to work along with scientists and researchers on studying healthy beaches.
I am currently an environmental engineering student pursuing my third year at the University of New Hampshire. When I graduate I hope to work with coastal cleanup, relative to problems I have seen growing up in Gloucester.
I am very excited to be starting my internship working with The Stewardship Network New England (now Nature Groupie), NH EPSCoR and Citizen Science. I think it will not only be an educational experience but also an enjoyable way to spend my summer.