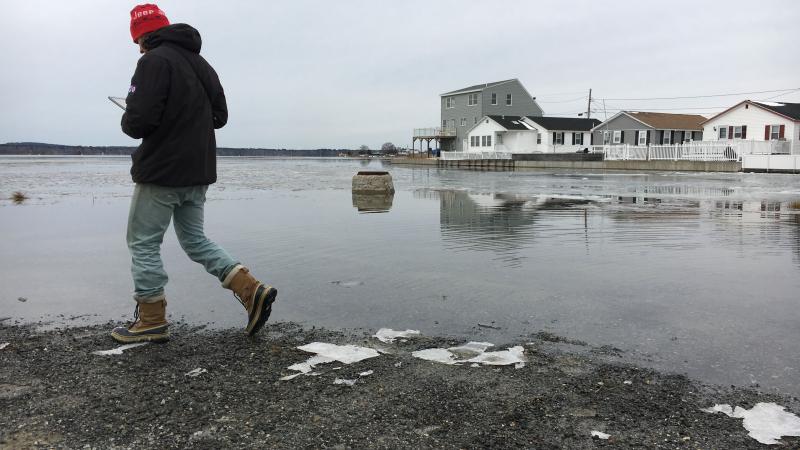 Catch the King: Coastal Flooding on Your Smartphone
Coastal Research Volunteers
Monday, September 30, 2019 • 6:30pm–8:00pm
Masonic Temple, 77 Tide Mill Road
Hampton, NH 03842
United States
View map
Setting
Indoors & Outdoors
About the Event
Want to help coastal communities that are experiencing repeated flooding? We need volunteers to help map the extent of high tides in Hampton, NH during this fall's King Tide (Sunday Oct. 27 – Wednesday Oct 30). What's a King Tide? It's one of the highest tides of the year, and many streets and neighborhoods in Hampton will be flooded. The community of Hampton is partnering with NH Sea Grant and UNH Extension to learn exactly how high and where the flooding is. Results will help Hampton – and other coastal areas – prepare for future flooding.
If you are available to volunteer in Hampton, NH during some part of Oct. 27-30 (timing is flexible), you are invited to attend a training on Monday, Sept. 30, 6:30 – 8:00 pm at the Masonic Temple in Hampton, NH. You'll get trained on smart phone-based mapping techniques using the Sea Level Rise mobile app. No experience necessary.
Requirements:
Access to a smart phone (yours or come with a partner who has one) and ability to download the Sea Level Rise app here (free). Or you can find it on the App Store for iOS devices or Google Play for Android.
Willingness to work independently for at least 2 hours surveying and mapping the extent of coastal flooding in the town of Hampton, NH. Volunteering will take place outdoors during the fall 2019 King Tide (Sun 10/27 – Wed. 10/30), with hours and timing flexible.
What to bring
Bring a smartphone with Sea Level Rise app downloaded (free)
Youth Instructions
Youth under the age of 16 must be accompanied by an adult to the training.
Location Details
Topics
Spread the word!