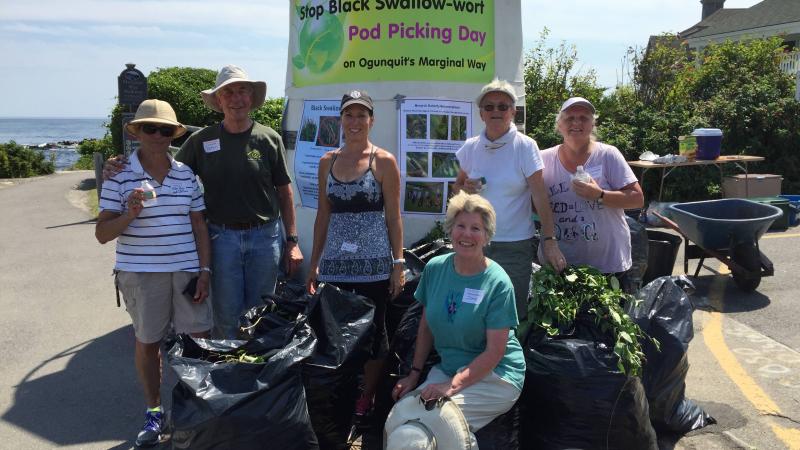 10th Annual Pod Picking Day
Marginal Way Committee, Town of Ogunquit
Saturday, August 13, 2022 • 7:00am–11:30am
Lighhouse on Marginal Way, intersection of Israel Head Rd & Stearns Rd.
Ogunquit, ME 03907
United States
View map
About the Event
Join volunteers on the beautiful Marginal Way to collect the seed pods of highly invasive Black swallowwort. Your efforts protect native plants and help save Monarch butterflies.
Flexible hours. Come when you can ~ stay as long as you can, or choose a shift: Early birds from 7-9AM. Later birds from 9:30-11:30 AM. At 9AM we all gather at the Lighthouse to celebrate the 10th Anniversary and thank volunteers for their efforts!
No experience is needed. Everyone works in teams. Experienced pod pickers show you how to identify Swallowwort. We remove the pods before they open in late August and the seed parachutes are spread by the wind into new areas. Spectacular scenery and a rewarding experience. Comments from a volunteer: "I didn't even know what a pod was. Not only did I feel personal pride in helping to improve the Marginal Way, but complete strangers would stop to ask what I was doing and to thank me for my efforts."
~ Parking passes for volunteers.
~ Rain date: Sunday, August 14 -same times.
What to bring
Hat, work gloves (we'll have extra pairs), hand clippers if you have them. Long sleeves and long pants recommended in heavy brush (there may be poison ivy in a few spots). We are going green, so bring your own water bottle and we'll fill it here. At 9AM we'll provide snacks & other beverages.
Youth Instructions
Young volunteers (10 years & up) are welcome, accompanied by an adult.
Location Details
Topics
Spread the word!